Services
Moonlight Production and partners is a multi award winning film and video production company. Our production team develops award winning concepts for television, commercial, corporate, viral, and promotional video. We offer a wide range of video production services for all industries. We have an exciting creative process! One of our award winning producers is assigned to your project from the beginning and makes sure that it will stand out.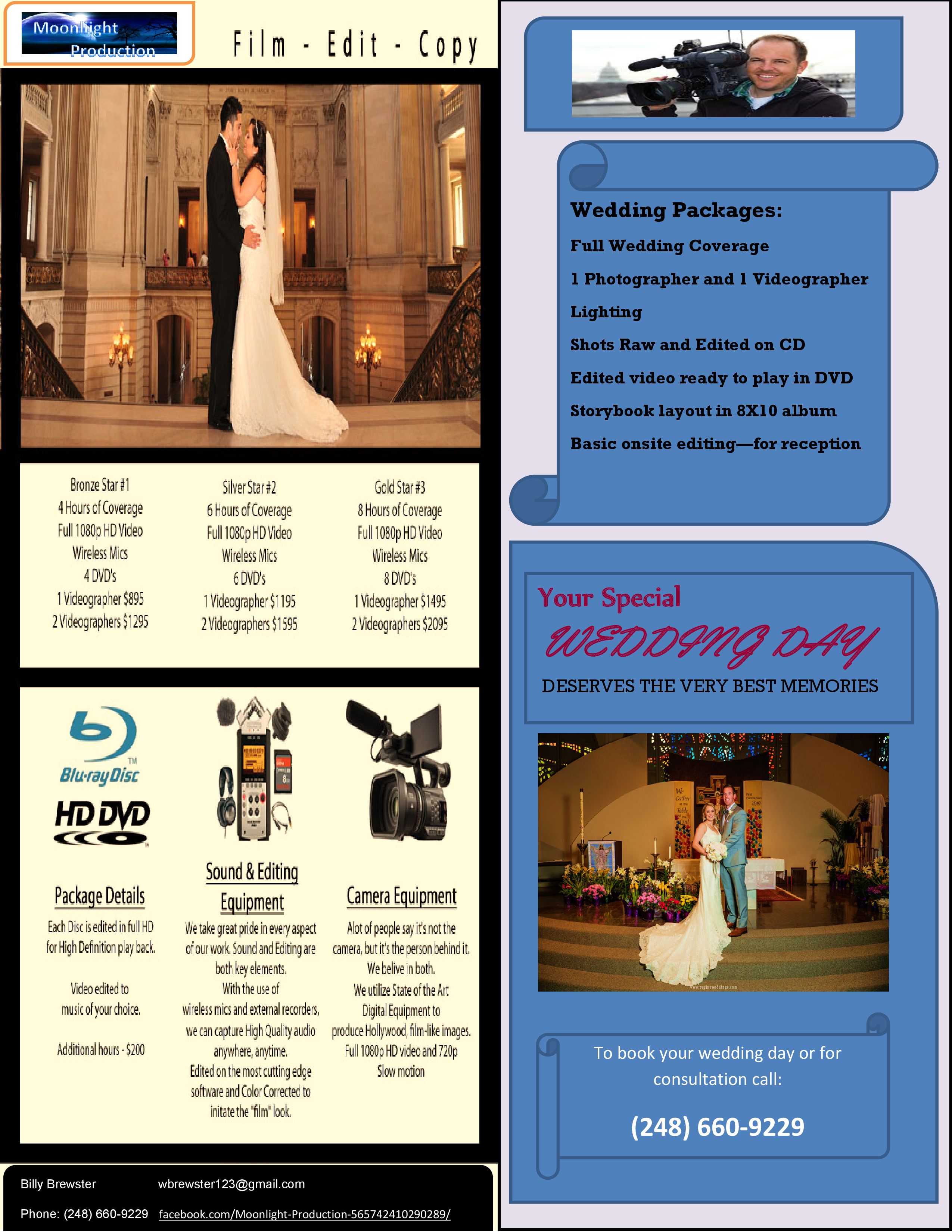 ARE YOU GETTING MARRIED?
If you would like to get prices or book a videographer
and or a photographer foran up coming wedding,
then be sure to see our Wedding Packages page.
We would love to help make your special
that much more memorable!
35% Off Special on Drone Video and Photography Production Only $695
15 High resolution aerial images
5 High definition aerial video clips
60 second video with branding, captions, contact information and music
Animal Photography
Baby Photography
Black-and-White Photography
Birthday & Bar/ Bat Mitzvahs
Boudoir Photography
Bridal Photography
Cabaret Productions
Camera Switcher Operator

Children's Photography
Commercial Photography
Concert Production (With Switcher)

Consulting Services
Corporate Productions (With Switcher)
Costume Designing
Couples Photography
Drone Videography
Engineering (music & video)

Effects; Special Make-Up Effects, Prosthetics Contact Lenses, Creatures, Life Casting/ Sculpting, Weapons, Bullet Hits, Blood Hits, Dust Hits, Spark Hits, Glass Hits, Squibs, Pyrotechnics, GORE FX, Blood FX, Minatures, 3D Printing, Animatronics Creatures
Events and Parties
Executive Producing
Family and Group
Fine art Photography
Floor Directing
Glamour Photography
Graduation Photography
Grand Openings
Group Photography
Headshot and Portrait Photography
Individual Photography
Make-Up Artist
Maternity and Newborn
Model Book Photography
Model Videography
Movie / Film Production
Music Video Production
Newborn Photography
Night Club Events
Office Parties

Online Productions
Post-Production (editing)
Private Parties
Production Transportation
Production Engineer
Production Managing
Promotional Videos
Portrait Photography
Product Roll-Out Production
Real Estate Photography
Real Estate Videos
Receptions
Retirement Parties
Runway Productions
School Dances
Senior Class Photography
Sound Engineering
Studio rental
Videography Services
Voice Over
Wedding and Engagement
Writing